Resource Management solution
For use with: Swiftpage (was Sage) ACT! or Microsoft Outlook BCM (Business Contact Manager)

About the User: This project was originally commissioned by a client who supplies temporary staff to care homes; their ACT! system was not sufficiently powerful in this area and the Resource Management System was built to fulfil their requirements. The solution was reworked and equally successfully implemented by a second client using Outlook BCM to help manage their team of engineers who visit customer sites to install, service and repair car park barriers.

Project Brief: To allow easy diary management of employees (contract, part-time and full-time) – easily knowing when employees are available for work, when they are booked and also managing customer billing and employee wages.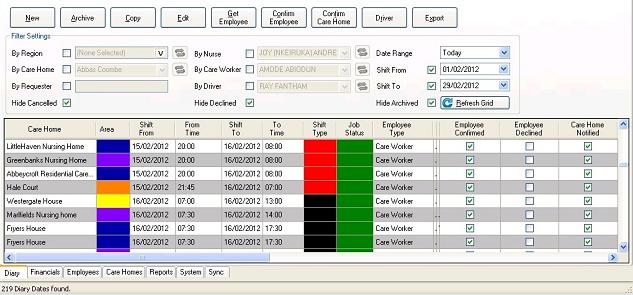 Features:
Easy management of knowing what work requires covering, who is available and the resource allocated.
Traffic light system to know what work needs covering where resource has not been allocated, resource has not confirmed and that the end customer has been notified.
Management of Customers with preferred Resource and Resource with preferred Customers.
Management of Customer Types and Resource Skills to best match Resources to work requests.
Warning and alerts if Resource works too many hours or has potentially conflicting work scheduled.
Alerts if a resource would be working for an end customer and the work would fall into Agency Worker Regulation rules.
Auto-calculation of resource pay rates and end customer charge rates, including consideration for Agency Worker Regulation adjustments.
Customer invoicing and Resource wage reporting including output to PDF file for electronic invoicing and payslips.
Holiday entitlement and pay allocation.
Sync features for remote usage.
Security features to protect financial information based on User login profile.
Benefits:
Easy visibility of what work needs attention through the traffic light system.
Easy to allocate the most appropriate resource for a particular piece of work.
Systematic adherence to Agency Worker Regulation to ensure compliance.
Greatly speeded up and scalable solution as compared to their previous Excel-based solution.
Supported significant business growth and easy introduction of new office-based staff (3 x within 2 years and growing!)
Ability for multiple staff members to work offline out of the office.
Private Customer and Employee financial information saved securely.