ConnectIt-Sage50
QuoteWerks and Sage Accounts integration
For use by:
Any business that uses QuoteWerks and Sage Instant or Sage 50 Accounts.
Sage Instant / 50 Accounts users that would like to enhance the quoting capability of Sage by implementing QuoteWerks.
Users that want to work with the two systems seamlessly.
More information?
Call us
on:
0844 357 7360
+44 1483 510514 (international)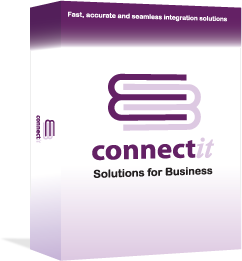 Overview
Features
Enables the QuoteWerks user to create the current active QuoteWerks document in Sage. ConnectIt supports Sage Product Sales Order, Product Purchase Order, Product Invoice, Product Credit Note, Service Invoice and Service Credit Note document types, plus various "back-to-back" document combinations of these.
Support for multi-vendor documents - create multiple Product Purchase Order documents in Sage from a single QuoteWerks document.
Create new products, customers and suppliers in Sage without needing to leave the QuoteWerks application.
Bi-directional transfer of unique document reference numbers from QuoteWerks to Sage and the Sage document number back to QuoteWerks for auditing purposes and inclusion in document templates.
Intuitive and user friendly. Just click the 'Create document in Sage' menu option from the QuoteWerks Tools menu and let ConnectIt do the rest.
Many configuration options so that ConnectIt will work to suit your business requirements.
Supports QuoteWerks v4.0 build 17 to v4.7 build 7 Standard, Professional and Corporate editions.
Supports Sage 50 v9.0 to v19.0 (2013) Accounts, Accounts Plus and Professional (Financial Controller) editions.
Supports Sage Instant v15.0 (2009) to v19.0 (2013) Accounts and Accounts Plus editions.
Online Demos
These online demonstrations illustrate how easy it is using ConnectIt-Sage software to create QuoteWerks documents, customers, suppliers and products in Sage in just a few button clicks.

Please click on the links below to view the demonstration videos of the ConnectIt-Sage software.
You need Flash player 8+ and JavaScript enabled to view this video.
Demonstration Videos
Training Videos
If you have any questions then please email enquiries@connectit-software.co.uk

To purchase your copy of ConnectIt and start taking advantage of its time saving capabilities, please contact your local QuoteWerks or Sage reseller or contact us direct.
Screenshots
You can view screenshots, plus get a huge amount of information on every single option available within the ConnectIt software on our support resource page. On the Support Resources page, just click on 'Sage50' and scroll down to the Step-by-Step Guides section; the Document Creation, Wizard and Configuration documents provide the most information for you to get a better understanding of the ConnectIt software.
If you're a reseller that would like original graphics for preparing a presentation, then please contact us to get high quality images.
Pricing
Click here to go to the ConnectIt-Sage50 pricing page.
Download
Click here to download the latest version of the ConnectIt-Sage50 software.
Support
If you already have (or would like to subscribe to) a support contract for your ConnectIt product, please contact us.
If you would like help installing or setting up your ConnectIt software, then please see this page.
For documentation, including step-by-step guides and technical information, please refer to the Resources pages.
Or, to search the ConnectIt Support Knowledgebase, please click here!