QuoteWerks Optional Item Import utility
For use with: QuoteWerks v4.0 build 17 to v5.6 build 2.07

About the User: This project was commissioned by a client who manufactures and sells standard and bespoke office furniture. The nature of the products which they produce is that there are many alternative component parts within a finished item.

Project Brief: To compliment the standard out-of-the-box features which allow the User to import a list of Products into a Product database source, the requirement was to create a utility which will enable them to also import Optional Items.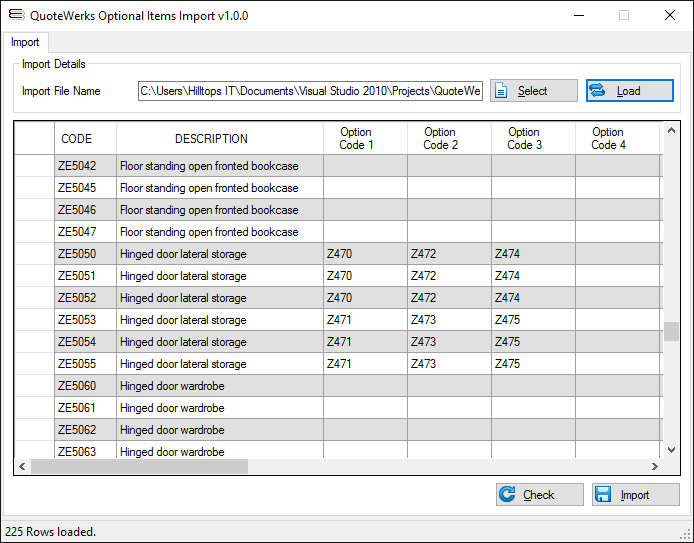 Features:
Selecting and reading a CSV file which contains the Header and Optional Item list. (This could easily be converted to support Excel or other spreadsheet file type.)
Validating and then importing the Header / Optional Item combinations into the QuoteWerks database.
Configuration options to tailor which fields are used to specify the Header Product Code plus any number of Optional Item Codes.
Configuration options to set the Attributes and Quantity that should be applied to the Optional Item Codes.
Support for QuoteWerks Standard, Professional and Corporate edition databases (i.e. Microsoft Access or SQL Server).
Benefits:
Considerable time-saving as compared to manually creating the Optional Items lists.
Easy to import and re-import if Optional Items aren't immediately set as you might like.
The utility seamlessly runs from the QuoteWerks Tools menu so the User experience is that they are using a QuoteWerks native feature.
Once configured, very easy to train Users on the additional features.