TechData (C2000) Ordering utility for QuoteWerks
For use with: QuoteWerks v4.0 build 17 to v5.6 build 2.07

About the User: This project was commissioned by a client who sells high volumes of AutoDesk licenses. They order their licenses from TechData (more commonly known as Computer 2000 in the UK) via an online web portal.

Project Brief: the client (who also uses our ConnectIt-Sage50 QuoteWerks to Sage 50 Accounts integration) wanted to leverage the web services which sit alongside TechData's online web portal to create an easier, more seamless and less time-consuming way to place the AutoDesk license orders. Based on their experience with ConnectIt-Sage50 and the very simple 'click and go' approach, they requested a similar minimal fuss interface for this integration.

The screenshot below illustrates the very simple Tools menu | 'Create Order in C2000' option with the brief progress bar to indicate that the utility is running: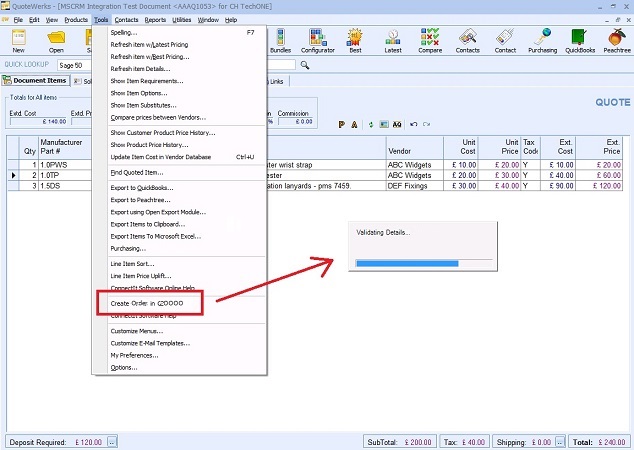 Features:
Creating the AutoDesk Order Header and Detail in within the TechData online ordering system from the Header and Line Items in QuoteWerks.
Validation checks to ensure that unexpected Line Types are not on the QuoteWerks Document or Vendor / Manufacturers listed.
Creation and saving of the Order XML file locally before sending to TechData for traceability and auditing purposes.
Configuration options to tailor which fields in QuoteWerks are mapped to which fields in the TechData Order (including use of macros).
Support for QuoteWerks Standard, Professional and Corporate editions.
Benefits:
Considerable time-saving as compared to manually creating the Order (particularly for Documents with a large number of Line Items).
Reduced likelihood of human error entering details incorrectly or duplicating Orders for licenses.
The utility runs seamlessly from the QuoteWerks Tools menu so the User experience is that they are using a QuoteWerks native feature.
Once configured, very easy to train Users on the additional feature.