QuoteWerks Microsoft Dynamics CRM Contract utility
For use with: QuoteWerks v4.0 build 17 to v5.6 build 2.07

About the User: This project was commissioned by a client who sells cloud-based application subscriptions and services. When processing Orders received from their customers they create Microsoft Dynamics CRM Contracts to manage the on-going communications.

Project Brief: the client (who also uses our ConnectIt-Sage50 QuoteWerks to Sage 50 Accounts integration) wanted an easy way to create a Contract in Microsoft Dynamics CRM from the QuoteWerks Document. Based on their experience with ConnectIt-Sage50 and the very simple 'click and go' approach, they requested a similar minimal fuss interface for this integration.

The screenshot below illustrates the very simple Tools menu | 'Create Contract in CRM' option with the brief progress bar to indicate that the utility is running: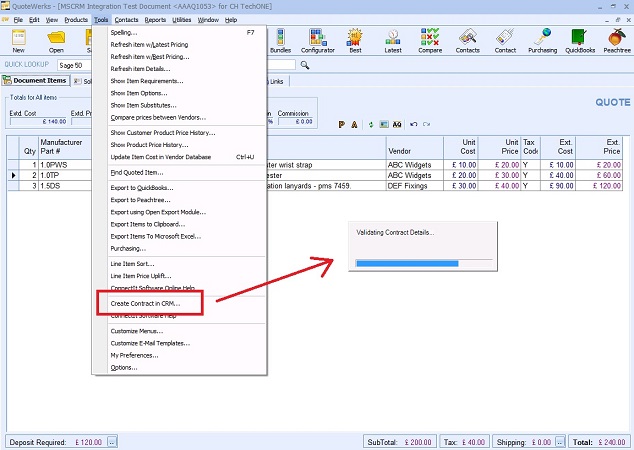 Features:
Creating the Contract Header and Detail in Microsoft Dynamics CRM from the Header and Line Items in QuoteWerks.
Validation check to ensure that a Contract for the particular QuoteWerks Document has not already been created in MSCRM, that the Customer / Billing Customer exist and are Active, and that the Products on the QuoteWerks Document exist in MSCRM.
Configuration options to tailor which fields in QuoteWerks are mapped to which fields in MSCRM (including MSCRM custom fields and use of macros).
Benefits:
Considerable time-saving as compared to manually creating the Contract ( particularly for Documents with a large number of Line Items).
Reduced likelihood of human error duplicating Contracts for Documents.
The utility runs seamlessly from the QuoteWerks Tools menu so the User experience is that they are using a QuoteWerks native feature.
Once configured, very easy to train Users on the additional feature.