QuoteWerks ChargeLogic integration
For use with: QuoteWerks v4.0 build 17 to v5.6 build 2.07

About the User: this project was commissioned by a client who manufacturers and distributes high volumes of custom-built and branded shelters, tents, banners, flags, umbrellas, etc. Based in the United States, they distribute products world-wide using QuoteWerks to generate quotes for their customers.

Project Brief: in order to speed up receiving deposits on orders and so the time it takes to process an order to be manufactured, the client wanted to implement the ChargeLogic online payment gateway alongside their existing Microsoft Dynamics NAV, QuoteWerks and QuoteValet systems. (Note that use of QuoteWerks' 'out of the box' payment gateway integrations was not an option because the client wanted to leverage the ChargeLogic integration with MSNAV.)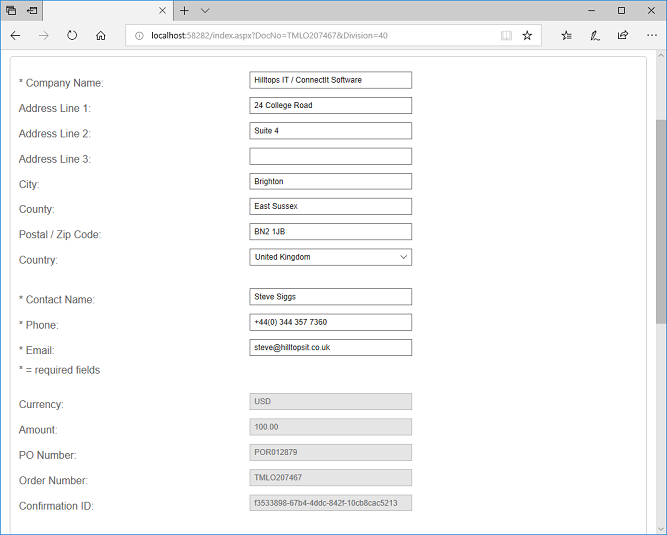 Features:
Redirecting the end customer to the payment page as soon as they accept the order on QuoteValet.
Retrieving top-line information regarding the customer order from the QuoteWerks database and presenting this on a web page for the customer to then enter their credit or debit card details to make payment.
Online payment through the ChargeLogic gateway.
Writing payment details to the QuoteWerks database.
Benefits:
Secure online payment processing via the ChargeLogic service.
Minimising time between order placement and deposit payment to optimise the movement of the order into production.
Minimising the risk of the deposit payment being overlooked, the order then delayed going into production and potentially being late for the customer's expected or required delivery timescale. (Note that many of the client's customers placed orders for promotional equipment and accessories for a particular event and so late delivery is not an option.)
Minimising the need for internal order processing staff to chase and process payments.
Efficiently bringing all payments together through the ChargeLogic & Microsoft Dynamics NAV integration.