Automatic Email Scheduling utility
For use with: Microsoft Dynamics CRM

About the User: This project was commissioned by a client who provides tools for and information on the promotional gifts industry.

Project Brief: To dynamically send emails using content from a blog and SQL Server Reporting Services reports on a scheduled basis via Microsoft Dynamics CRM.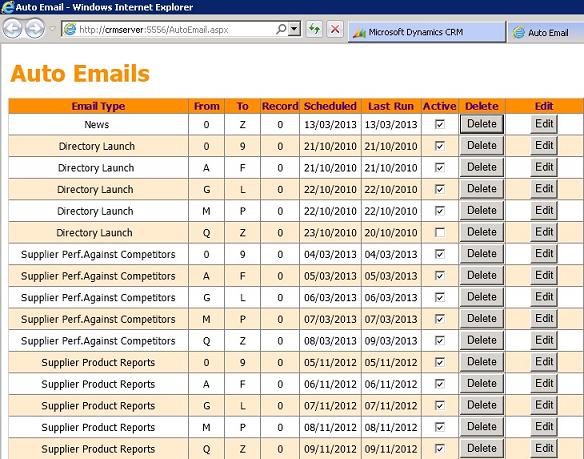 Features:
Collating articles from a blog of various types into an HTML email with headlines and links to the original article.
Collating the list of recipients from Contacts in MSCRM.
Attaching customer-specific PDF reports created via SQL Server Reporting Services.
Sending the email and recording in MSCRM Contact History.
Scheduled for overnight processing.
Benefits:
Saves significant manual effort collating the articles, links, reports and list of recipients.
Ensures a standard, consistent email format.
Overnight schedule minimises server resource requirements during working hours.
Increased traffic to websites and blogs through the easy-to-read summary email.
Increased engagement of customers by providing relevant and informative information on a regular basis.